We've always known we wanted to have children and once we were married, we knew we wanted to start growing our family as soon as possible. We were lucky in that it was very easy for us to initially conceive. Just a month after deciding to start trying, I was pregnant and we were thrilled! Our happiness quickly turned to sadness when I miscarried at 10 weeks. It was one of the hardest things that I've even gone through and I know it was equally as difficult for Jason. That was August 2010. From then on we tried and were unsuccessful at conceiving and after two and a half years (many tests, countless Dr. visits and too many "it'll happen when it's supposed too's") we finally decided to see a Fertility Specialist. Our wonderful Dr. ultimately recommended we give
IUI
a try. We decided to start the process the summer of 2013 but just before we were set to start the journey, I found out I was pregnant, again! What are the chances, right? Unfortunately, I miscarried at 11 weeks. We decided to start the IUI process almost immediately after the miscarriage.
"You know, through pain, you learn a lot about yourself--things you thought you never knew you wanted to learn. And it's kind of like those animals that regrow a part of their body--like a starfish. You might not feel it. You might not even want to grow, but you will. You'll grow that part that broke off, and that growing, that blooming--cannot happen without the pain."
― Kelle Hampton,
Bloom: Finding Beauty in the Unexpected--A Memoir
Saturday, August 24, 2013
Today marks the very first day of our first round of IUI! Coincidentally, today is the anniversary of the day Jason and I met for the first time 7 years ago. When I started my cycle this morning, I couldn't help but get excited for what is to come...we can finally get this process started.
"Ask & it will be given to you; seek & you will find; knock & the door will be opened for you." Matthew 7:7
Monday, August 26, 2013
I called the Doctor's office first thing this morning. Seriously, I think I was on the phone with them by 7:30am. I wanted to make sure I did everything just right and asked all the right questions. The nurse was so nice and answered all of my questions with such compassion and patience. We talked briefly about the expectations for success and she reminded me that many times this process doesn't work the first time. I choose to remain optimistic but I do know the reality. She told me to begin taking my prescription of Letrozole and of course, continue taking prenatal vitamins. A prescription was called in for an injectable medication (HCG trigger shot) so that I would have it on hand at my appointment next week. We scheduled an ultrasound for September 4th.
Wednesday, August 28th (
Jason's 33rd Birthday!)
I arrived home from Seaside today. Jason was attending meetings in the area, so I made a mini vacation out of it and tagged along. I found a little canvas in a local store in Watercolor and bought it to have as a reminder of the beginning of this journey.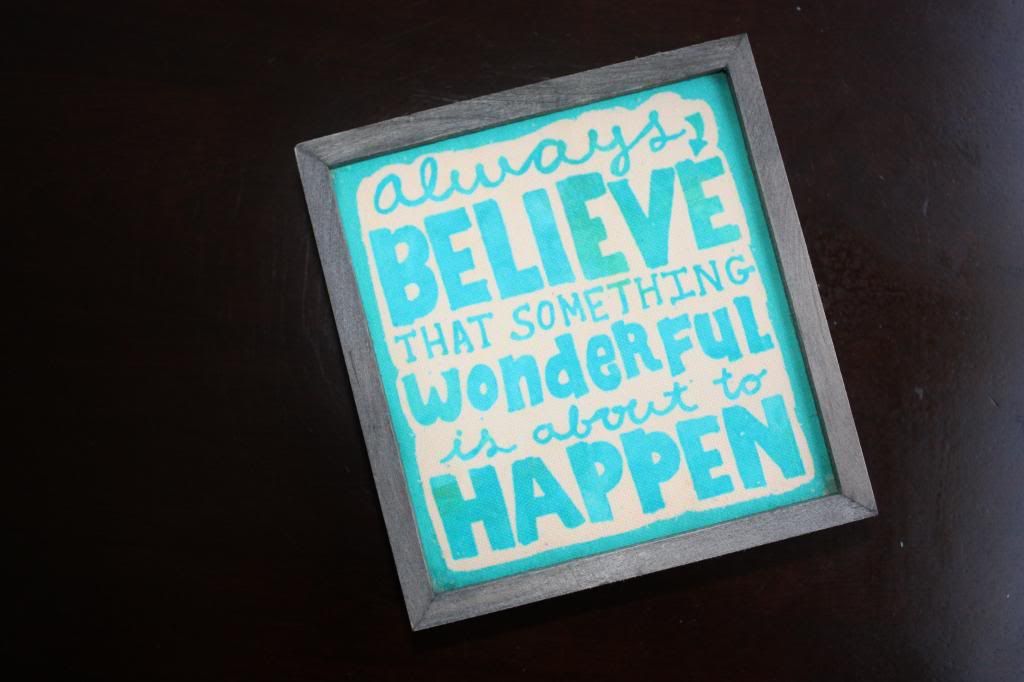 I arrived home to a number of packages waiting on me...some fun things for the house, one new game day dress and a small box containing the aforementioned "trigger" shot. It seems a little overwhelming but I am sure it's not as bad as it looks. Of course, it'll all be worth it in the end. Thank God for the wonderful Doctors and Nurses who are going to help see us through this.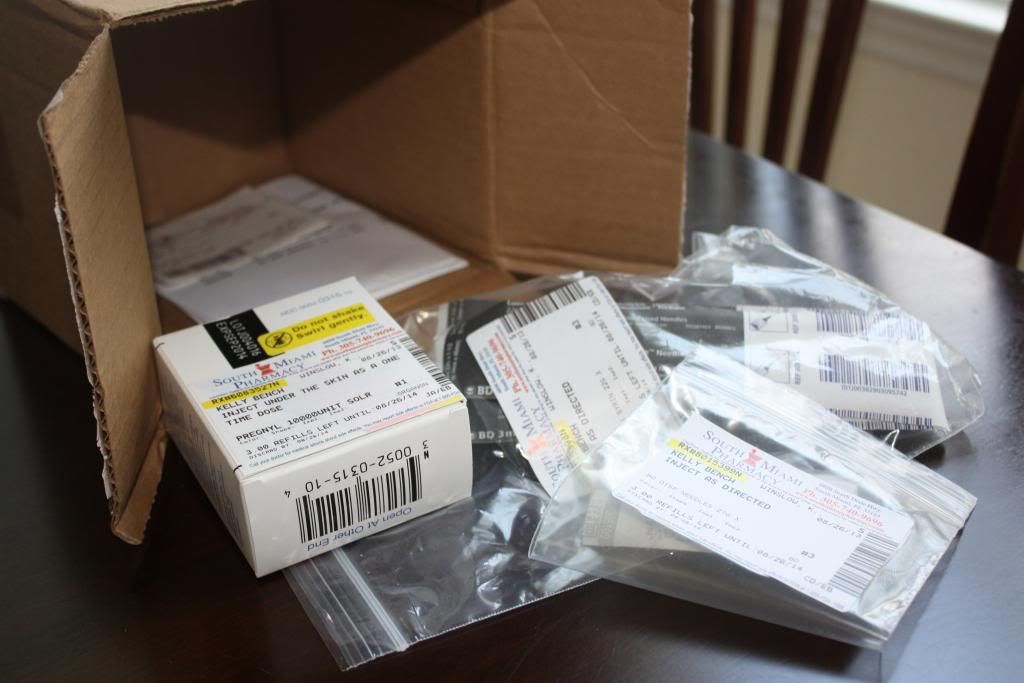 Wednesday, September 4th
Today we had our Day 12 Ultrasound. Our appointment was bright and early, at 7:15am. The nurse did a quick ultrasound and let us know that she didn't believe I was quite ready for the IUI but to await the doctor's call. Later today, the doctor called to let me know that, like expected, the ultrasound showed that I was not quite ready. The new plan is start taking Letrozole again and we scheduled another ultrasound for Sunday. He also instructed me to start at home ovulation predictors twice a day and if I get a positive test, then to be prepare to have the IUI on Sunday morning.
Sunday, September 8th
We drove to Jacksonville this morning for our early morning ultrasound. Unfortunately, the doctor informed my that I had somehow missed the window for the IUI. He believes that the original ultrasound was "under appreciated". Because of this the IUI is on hold until next month, when we start the entire process over again. What frustrating news.
Friday, September 13th
I went in for my second "Day 3" ultrasound today. Unfortunately, the ultrasound showed a number of cysts on my both the left and right ovaries. A month of birth control was ordered in an attempt to suppress the cysts. We will re-check things in a month or so.
Monday, October 28th
I went in for my third Day 3 ultrasound today. We were thrilled to learn that all the cysts were gone and everything else looked great! I started Letrozole today and we will re-check on Day 12.
Wednesday, November 6th
I was at the Dr.'s office bright and early this morning for my Day 12 ultrasound. My body responded nicely to the Letrozole and the tech was able to see 3 nice sized follicles (ideal for an IUI is one or more). Later this afternoon, I heard from the Dr. who advised us to administer the HCG trigger shot tonight after 5pm and plan to come to Jacksonville tomorrow.
Thursday, November 7th (IUI #1 DAY!)
We left for Jacksonville just before lunch time in order to make it to my 2:00 appointment. The procedure was quick and painless and by 4:00 we were on our way home. Now to wait 2 weeks! Fingers crossed!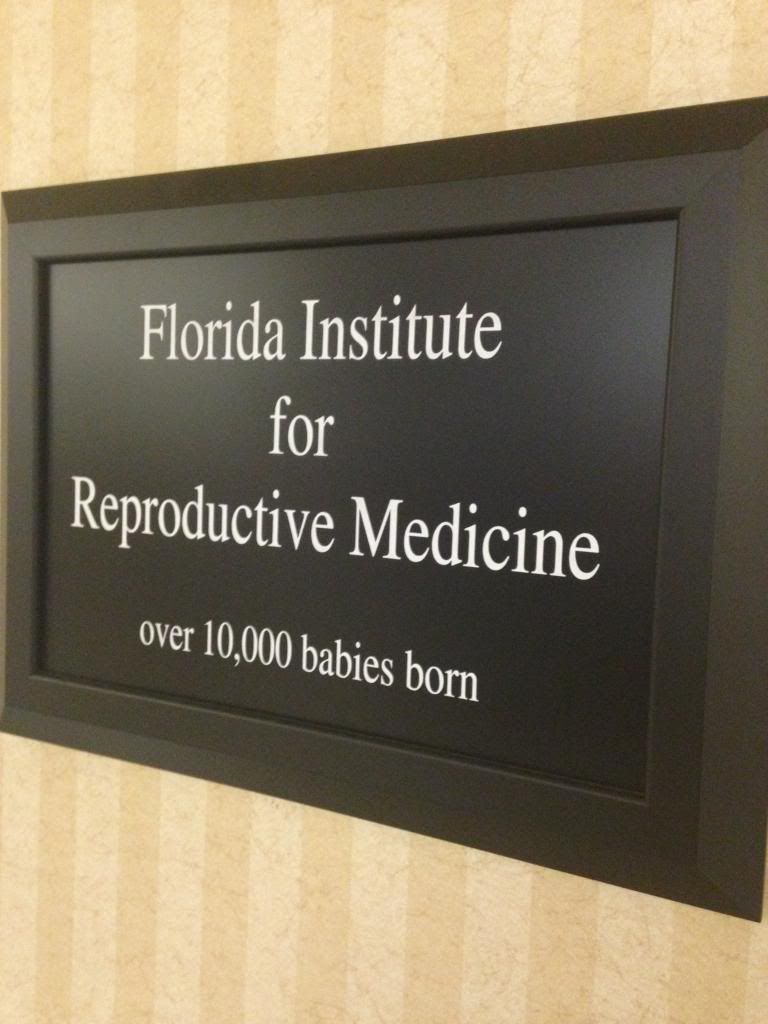 Tuesday, November 19th
Sad to report our first IUI did not work. I started my cycle today. This process is so frustrating. We will start all over again, with another Day 3 ultrasound on Thursday.
Thursday, November 21st
Today's ultrasound showed two small cysts, so we must wait until next month and hope they clear up on their own.
Tuesday, December 10th
I went in for my second Day 3 ultrasound today. The ultrasound looked great and we got the "thumbs up" to start a cycle of Letrozole.
Friday, December 20th
Today was my Day 12 ultrasound. The Letrozole worked and the tech was able to see 4 or 5 nice sized follicles. The Dr. said to administer the HCG trigger shot tomorrow and plan to come to Jacksonville on Sunday morning.
Sunday, December 22nd (IUI #2 DAY!)
We were up and on the road at 4:30 this morning to make it to Jacksonville by 7am. Just like the last time, the procedure as quick and we were on the road home by 9. Now for the long 2 week wait! Fingers crossed!
Wednesday, January 1st
Started my cycle today thus meaning round 2 didn't work. :( Pray for us!
Friday, January 3rd
My day 3 ultrasound revealed more cysts lingering around. Things are on hold until we meet with the Dr., in Jacksonville, on the 20th.
Monday, January 20th
We met with the Dr. today for an ultrasound and blood work. The ultrasound showed that the cysts have gone away, which was GREAT news! We will wait for the results of the blood work and pending those results start round 3 in a week or so. Fingers crossed for normal results.
Wednesday, January 28th
While we haven't heard the results from the blood work, we got the go-ahead to start taking Letrozole for round 3. I started taking it on Saturday and will finish tomorrow. A Day 12 ultrasound is scheduled for Monday.
Monday, February 3rd
Day 12 ultrasound was perfect! 4 nice size follicles and everything looks great. We head to Jacksonville tomorrow for our 3rd IUI :)
Tuesday, February 4th
Our 3rd IUI was completed today :)