Life has been so crazy that I am not sure exactly where to begin.
So much has gone on with Dayton's overall health. Sometimes it feels like we take a few steps forward just to take a few steps back.
Since Dayton was hospitalized, we have received an outpouring of well wishes! For which, we are very thankful! I thought I would catch everyone up to speed, so to speak, since in addition to kinds words and prayers, we've also received a ton of questions about what transpired and eventually led to being hospitalized down at Shands.

Let's rewind back to Thursday, Sept 17th.


One thing about Dayton is that he has ALWAYS been a great sleeper. Once he is down for the night, he sleeps 12-13 hours every night. Since January, he has had only one or two nights when he was up. He will sleep through pretty much anything. So that Tuesday and Wednesday night when he was up screaming inconsolably all night, we knew something was "off". He was running a low grade fever, which I contributed to teething so I gave him Tylenol and he seemed better. Since we were leaving on Thursday for a weekend at the beach, I decided to make a short doctor appointment to have his ears checked, just in case something was brewing.
I picked him up at day care around 2pm. He was sleeping when I got there, which was unusual for our consistent 30 minute napper but I didn't think much of it. I was about a mile from the doctors office when I heard him making the weirdest sounds. I could see in his car seat mirror that his eyes were fixated forward, his fists were clenched and he had (what looked like) foam coming from his mouth. I immediately called 911 while frantically trying to find a place to pull over and get to him. I was able to pull into an apartment complex and when 911 dispatch DID NOT ANSWER my call, I had to make the choice to drop my phone and get him out of this car seat. Thankfully, I was able to find someone in the parking lot and screamed to him to call 911. A few other people came to help as well. We got Dayton inside, laid him on the floor. I think I knew it was a seizure of some type but it was so scary I just could not wrap my head around what was happening. I just kept asking for help. For someone to HELP HIM. We put cold rags on his head and waited for EMS to arrive. All I remember hearing was the apartment maintenance man (who called 911) kept telling dispatch that Dayton was unresponsive and not breathing. I was absolutely terrified. By the time the first responder arrived, we had moved him outside closer to the parking lot where it would be easier for them to get to him. Finally, once they arrived his little body relaxed and while he was still semi-unresponsive, his color started to come back. I remember everyone telling me he most likely had a febrile seizure and I distinctly remember the paramedic telling me that all immediate signs showed that he did not suffer any brain injury but would need to be checked out to be sure. The words brain injury alone caused me to totally loose it. After checking the time of the 911 calls and the time the first responder arrived, our best guess is the seizure lasted somewhere between 7-8 minutes. Longest 7-8 minutes of my life.
One of the nice ladies at the apartment complex had called Jason from my phone, told him what had happened and asked him to get to us a soon as possible. She also secured my car, got my purse for me and made sure I had everything I needed since we were leaving in the ambulance. Everyone who came to help us was so nice. Once we were on the way to the hospital I finally calmed down a little. It helped my nerves tremendously that Dayton was slowing coming back around, although he was far from his normal self.
Once we were in the ER, they asked me million questions about the episode. How long did it last? What did his eyes do? Was his body jerking? Etc. Etc. I told them exactly what happened, which the doctor in turn told me that what I was describing was very atypical for a febrile seizure and because of that, he wasn't ready to give us a confident answer on what had happened. We agreed to follow his plan of care and thus began a long 12 hours. First, they did blood work which showed that his white blood cells were 16,000 (normal range is 4,500-11,000), his liver enzymes were 4-5 times their normal range and he was slightly dehydrated. They immediately started IV fluids and antibiotics (rocephin) and asked us to consent to a spinal tap to rule out meningitis. We agreed. They were actually able to put him to sleep for the spinal tap which eased my mind (as much as possible when you baby is put to sleep!) THANKFULLY there were no white blood cells in his spinal fluid and he tested negative for meningitis. On a side note to the seizure, during those hours in the ER, I began smelling that distinct C Diff smell from Dayton
(I knew it all too well from when he had it back in July)
and after sharing that with the doctor he decided to test him for it. It, of course, was positive.
We weren't initially sure if the C Diff test was positive (active) because he had recently had and was treated for it (after treatment and recovering you can test positive for it for up to a year), if it had not cleared up entirely back in July, or if it had re-occurred. It's hard to tell, especially because he really didn't have many symptoms at the time. Regardless, because of the positive test, the elevated WBC and liver enzymes and because of the unusual seizure they decided to admit us.
We didn't get into a room on the pediatric floor until 2am and were all exhausted. However, like all hospital stays, we got very little sleep. The following day (Friday), they ordered more blood work, an EEG and more fluids. The attending physician agreed that the seizure was very atypical for a febrile seizure but since the (thankfully!) the EEG came back normal he was, again, not able to give a confident diagnosis. Late on Friday, D's blood work finally showed that the elevated levels were coming down (still high - but trending down) and since we opted to begin treatment for the C Diff at home vs. through IV, we were discharged around 11pm. We were tired and a little frustrated to leave without any real answers.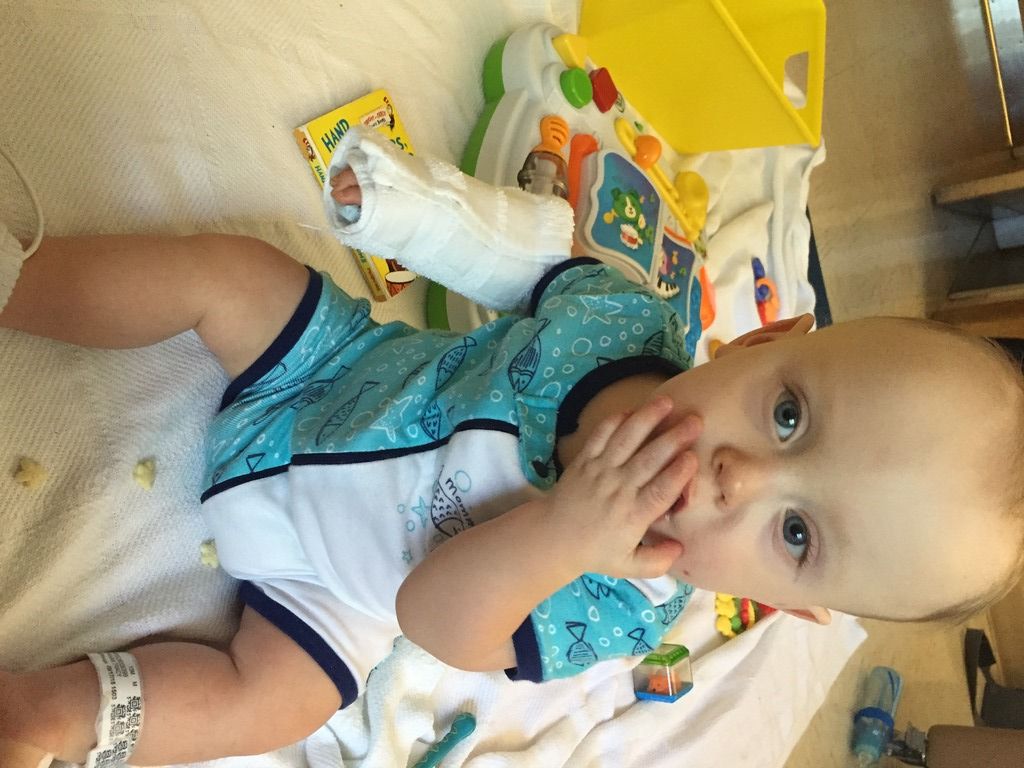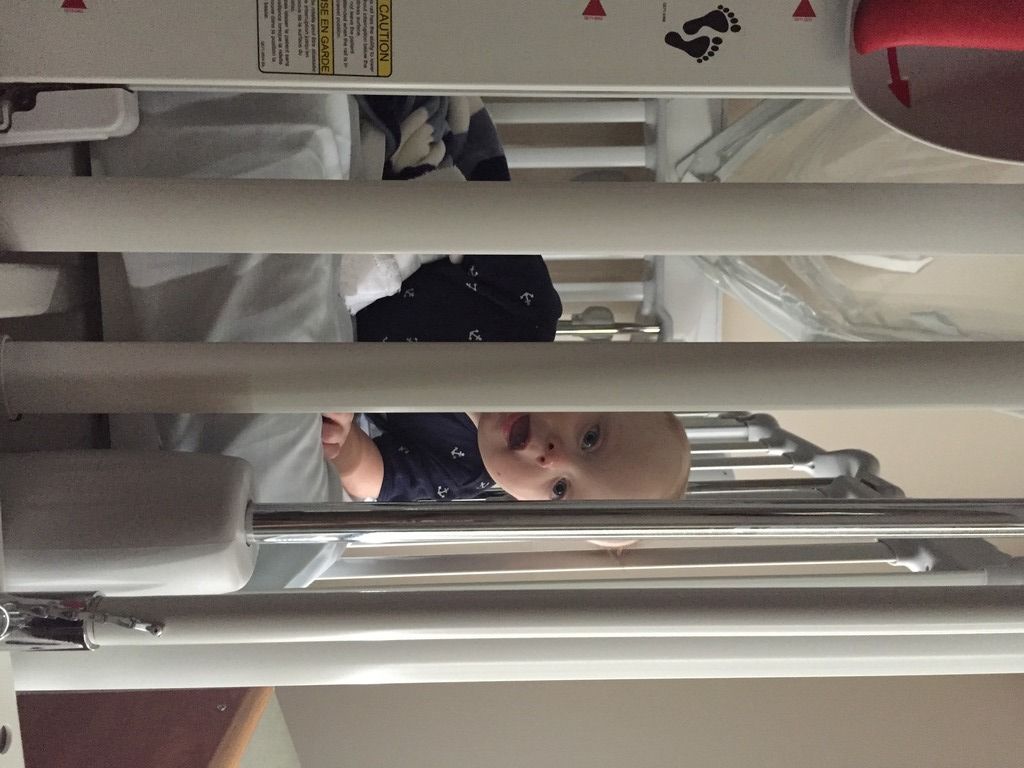 To be continued..........