Hello Friday!
We don't have much planned for the weekend except lots of stuff around the house. I swear, with Dayton into everything these days, he can mess up a room faster than I can get it cleaned up! I see lots of organizing & baby proofing happening the next two days. Lord willing, I am also planning on decorating for Halloween/Fall this weekend. Anyway, here's a wrap up of some thing I am loving on this beautiful fall Friday. Have a great weekend!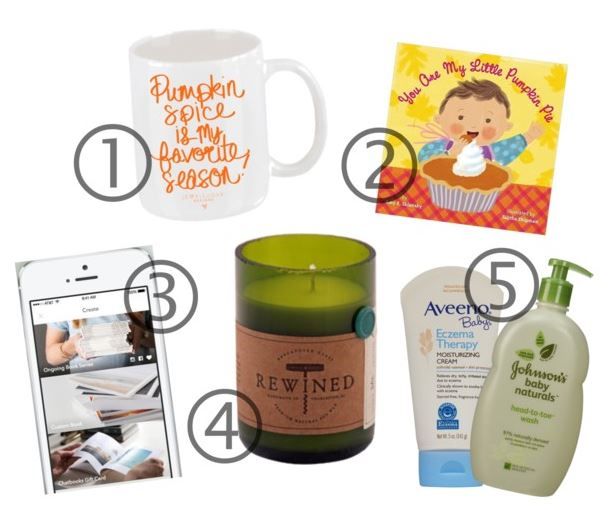 1. This coffee Mug and This healthy Pumpkin Spice Latte Receipe
-
because who wants to spend $4 for a super sugary, high-calorie coffee when you can have basically the same thing, just much MUCH healthier and from an adorable mug!
2.
This adorable book for little ones: You Are My Little Pumpkin Pie
-
Dayton is just now starting to pay attention when you read to him. I just picked up this sweet book at Home Goods and I think it's just too cute.
3. Chatbooks
- I am not sure why it took me so long to jump on the chatbooks bandwagon but I did and I am obsessed. So easy to order, fast shipping and amazing quality! I just love having them and actually look at them all the time.
4.
I recently purchased my first
Rewind Candle
and just love it! I am still some-what partial to my Capri Blue candles (probably always will) but these rewind candles are just a great and it's fun to change up that yummy smell every now and then. These make great gifts too!
5.
I am not sure if it is weather related or not, but I've notice D's skin has started feeling extra dry recently. He has a spot on his back and occasionally spots pop up on his forehead and tummy that seem to need an little extra moisturizer. My sister recommended the
Aveeno Baby Eczema Therapy
and it works wonders! It seriously cleared up those dry spots in just one day! I also started using
Johnson's Natural Head to Toe Wash
and beside loving the smell, I think it's also helped.