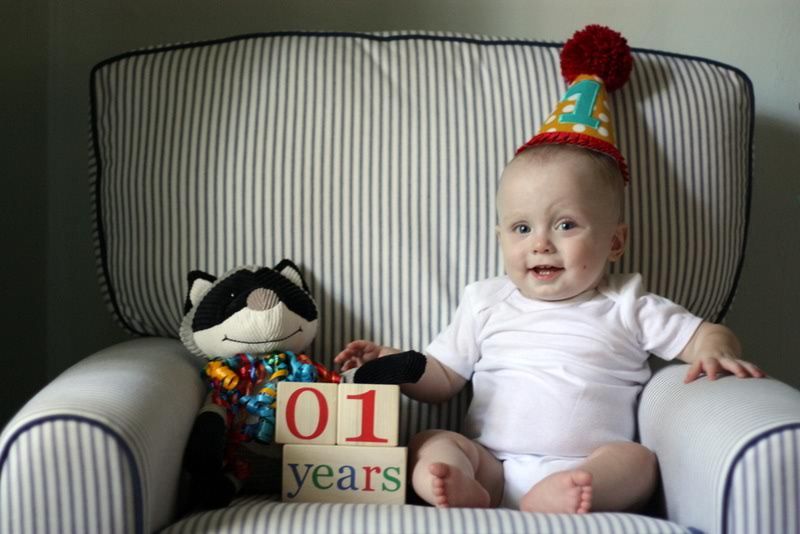 Chronological Age: 12 Months
Adjusted Age: 9 Months 14 Days
Weight: 21lbs 7oz
Height/Length:

28.5 inches
Hear Circumference: 18.75 inches
Size: T-Shirts are all 12-18 months or 18 months, Shorts are 12 month, rompers are 12-18 months and we just moved from size 3 diapers to size 4.
Eating: Still getting a couple bottles a day (we are down to about 4) and loves trying new foods. So far his favorite foods seems to be Avocado, Cottage Cheese Yogurt, Puffs, Goldfish & crackers. He still eats stage 2 baby food with at each meal.
Sleeping: Sleeping like a champ from 7ish until 7ish with two short naps during the day.
Likes: Jumping, standing, being held, bath time, chasing Eli around the house and music!
Dislikes: Loud noises, getting into his car seat & taking medicine!
Milestones: He started army crawling at the beginning of August, started pulling up on everything, says "mama" & "dada" and started using a sippy cup!
Other things that happened this month: Besides turning ONE! We spent a week at the Beach with Didi & Pops, went on his first boat ride at Wakulla Springs and reunited with his NICU buddy, Braden.