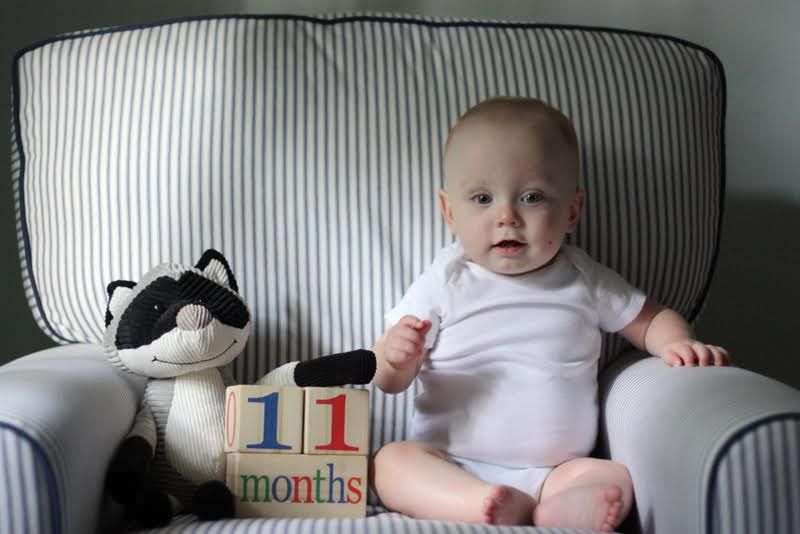 Chronological Age:

11 Months

Adjusted Age: 8

Months 14 Days

Weight: (Not sure!)
Height/Length:

(Not sure!)
Hear Circumference: (Not sure!)
Size:

All 12 month clothes (some 18 month). T-Shirts are all 12-18 months Still size 3-6 month shoes.

Eating:

When he wakes up he has a bottle (usually 5oz), the Breakfast (yogart, puree fruits and puffs), another 5 oz bottle around 11am, lunch (all stage 2 pureed baby food) around 12pm, a bottle around 2-3pm (5 oz), dinner

(all stage 2 pureed baby food, puffs, mum mums) around 5:30 and a bottle before bed between 6-7pm.

Sleeping: He is still sleeping from 6:30pm-ish to 7-7:30am with two naps during the day (one around 9am and the other around 1pm). Naps are usually 45 minutes to a hour long.
Likes:

He LOVES watching the weather on the tv, any toys that play music and feeding himself mum mums & puffs and wagon rides.

Dislikes: Waiting too long for a bottle, not being able to crawl towards something and
Milestones:

He now have 8(!!) teeth, will stand for a few minutes if he has something to hold onto and has started getting on his hands & knees on his own.

Other things that happened this month:

We celebrated his first 4th of July!