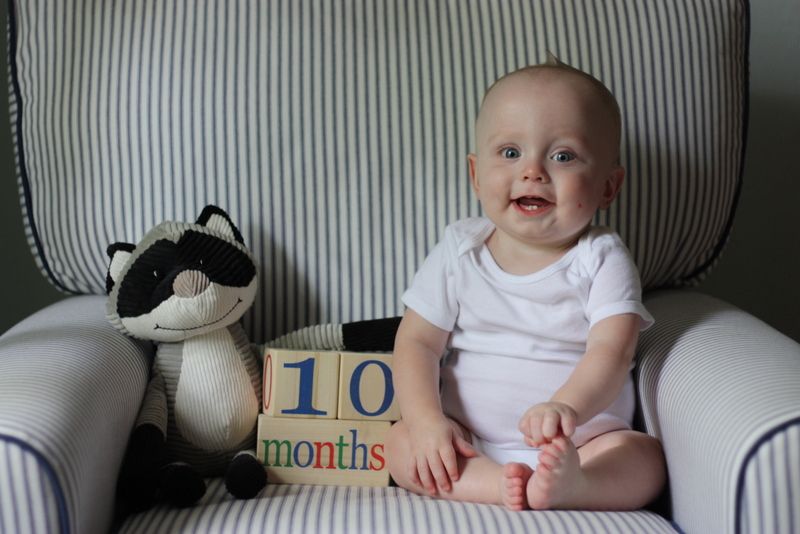 Chronological Age:

10 Months

Adjusted Age: 7

Months 14 Days

Weight:

20lbs 5oz (56th percentile)

Height/Length:

27.5" long

Hear Circumference: 18.25"
Size:

Mostly 12 month everything. Some 18 month t-shirts and some 9 month shorts/rompers. Size 3-6 month shoes.=

Eating:

Still eating three meals of stage 1 and 2 baby food each day, along with 5oz bottles every 2-3hrs between 7am-7pm. We've introduced some table food (cheese, bread, rice, fruit and avocado) and are still working on taking the sippy cup.

Sleeping: He is still sleeping from 6:30pm-ish to 7-7:30am with two naps during the day (one around 9am and the other around 1pm).
Likes:

Clapping, listening to music, watching the TV (especially the golf channel) and eating.

Dislikes: Not being able to feed himself, getting in his car seat and not being able to crawl or move forward.
Milestones:

He has cut two more teeth (the top front), has learned to clap and has started scooting backwards!

Other things that happened this month:

We celebrated Memorial Day at St. Teresa, we bought and moved into our new house and attended Mason's 6th and Leighton's 3rd birthday parties.