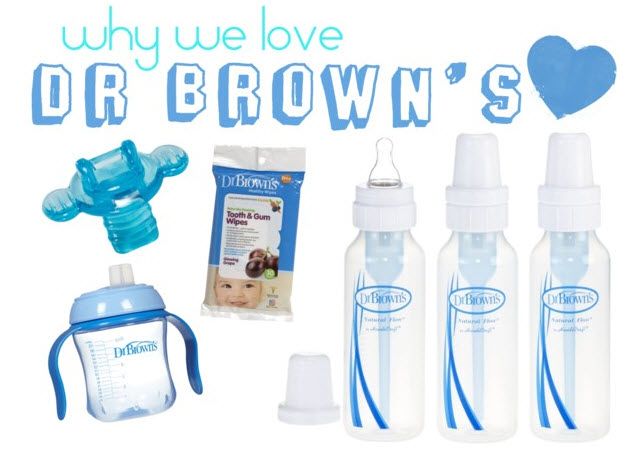 Before bringing Dayton home, we did a ton of research on bottles because we knew how important it was going to be to keep him eating well. After all, he had worked so hard to learn how to take a nipple, versus being fed through his feeding tube and we wanted to make sure he continued to progress with everything, especially eating and gaining weight like he should. (For those that aren't too familiar with preemie's, you can read more about
Feeding Premature Babies in the NICU here
.) I found a ton of positive reviews of the Dr. Brown's bottles (especially by parents of preemies) and since we received a free bottle from Graham's Foundation, we decided to try it out. We had purchased a few other bottles (based on suggestions from friends) so we could try those out, if needed, until we found the perfect fit. Fortunately, we never had to make a change from Dr. Browns and D has always done great with them. We started with the 4oz bottles and now use the 8oz ones. We have always used the
plastic, standard bottles
, even though they do come in
wide-neck
&
glass
, if either of those suit your needs.
Along with the slender, easy to hold design, the #1 reason why I love these bottles is because of the internal vent system and how much it helped Dayton's reflux & colic issues. We struggled with both issue for a while and I 100% believe had it not been for using these bottles, both issue would have been a lot worse.
The only negative things I can think of is the many pieces that have to be cleaned. At first it was a little overwhelming to clean & dry so many little parts, but after we got into a good routine, cleaning them hasn't bothered me in the slightest. I hand wash them with soap and hot water after each use and once a week, I wash all the bottles and parts either in the dishwasher or steam them in a
microwave sterilizer bag
(love those things).
We recently started introducing solids and I think the
Long Spatula Spoons
might make a good addition to our kitchen. Some of the baby spoons are two deep for D, so I am interested to see if these help him eat a little easier. I found a
4pk on Amazon for $6.99
which I might order soon. I would also LOVE to have the
bottle warmer
, but haven't been able to bring myself to buy one, since we were gifted another bottle warmer that is worked ok. It's starting to leak, so a purchase of a new warmer might be happening soon.
Overall, we can't say enough about all the
Dr. Brown's
products we've used. We would highly recommend them to anyone looking for bottles, breastfeeding supplies, teethers or cups!
(Disclaimer: I was not compensated for this post. The opinions are my own.)