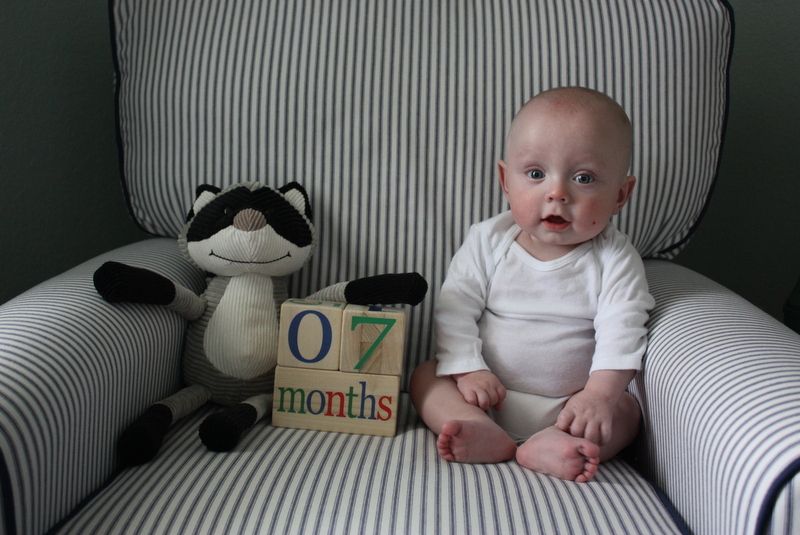 Chronological Age:

7 Months

Adjusted Age: 4 Months 14 Days
Weight:

15lbs 9oz

Height/Length:

We haven't been to the Dr since his 5 month well check, but I think he is still about 24-25 inches long, if I had to guess.

Size:

Mainly 6 month clothes and size 2 diapers.

Eating:

After taking some time off from solids (after starting at 6 months), we slowly starting introducing them again and things are going well. For now, we are sticking with baby oatmeal and fruits in the morning. He eats about a tablespoon of each. He is still taking between 4.5-5oz of fomula every couple hours.

Sleeping: Sleep is still going well! Sleeping through the night most of the time. Usually is down for the night by 6:30 and is up between 6-7am.
Likes:

He has one soft fabric book that he loves to play with, likes his lovey and anything else that is soft that he can chew on.

Dislikes:

Physical Therapy!

Milestones:

Tummy time is going much better! He is getting stronger everyday (with help from our weekly physical therapy) and has much better head control. He is actually starting to enjoy being in an upright position. He is also starting to hold his own bottle (with a little help!)

Other things that happened this month:

We started weekly physical therapy to help strengthen his core muscles and celebrated Valentine's Day!