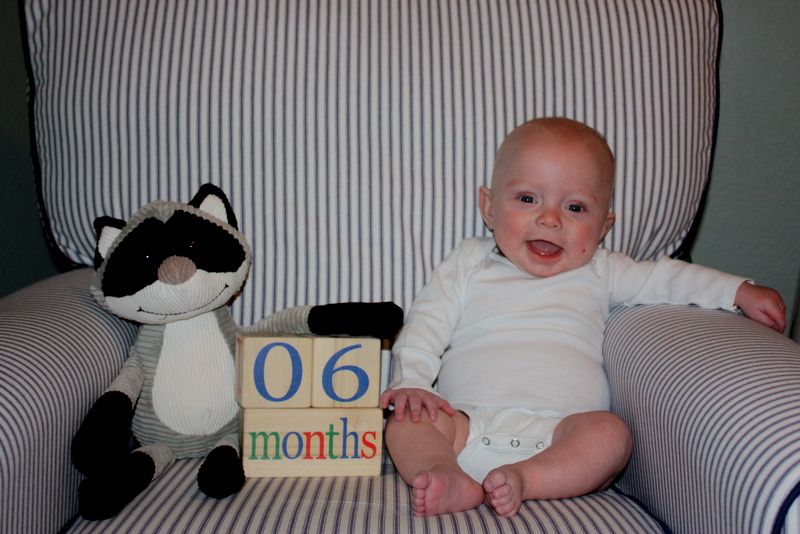 Chronological Age:

6 Months

Adjusted Age: 3

Months 14 Days

Weight:

15lbs 4oz

Height/Length:

We don't have an updated length since his 5 month well check!

Size:

He is wearing all 6 month clothes, but can wear some 6-9 month sleepers. Still in size 2 diapers.

Eating:

Still taking 4.5oz of formula and still eating every 3-4 hours (except at night, he sleeps 11-12 hours). We also started rice cereal a week or so ago, so he gets about a tablespoon each night.

Sleeping:

We have had to move his bed time up to around 7pm because he simply can't make it any longer. He is still sleeping until 6:30-7:30 each morning. He usually stirs around 4:30-5:00 and we are just starting to ween him off of eating at that time. So far he is doing great and with a little soothing, he is right back asleep.

Likes:

This kid is seriously so happy in the morning. He also loves playing piano on his play mat and loves watching the television.

Dislikes:

We are still battling with tummy time, but he is making great strides!

Milestones:

He can now reach out and grab things, is lifting his head during tummy time, is teething like crazy and trying so hard to roll over. He is "talking like crazy" and had his first taste of rice cereal.

Other things that happened this month:

Besides fighting off his first real sickness (a chest cold & ear infection), he spiked his first real fever (102.5) and was seen in the ER and ultimately treated for a bacterial infection! We traveled to Atlanta for Jackson Neese's first birthday and to Madeira Beach to see Pops & Didi.