Well hello, Friday! It's so nice to see you!
Linking up today for Five on Friday.
one. Germs.
We've been in protection mode since bringing Dayton home from the NICU, because the last thing we need is for the little guy to get sick. We are getting into RSV season so it's even more important that we keep our hands clean! It's really hard for me to remember to sanitize or wash my hands every time I go to pick him up, so I made a hand sanitizing station right in our living room so it's easy to get to and serves as a reminder to both us and our guests.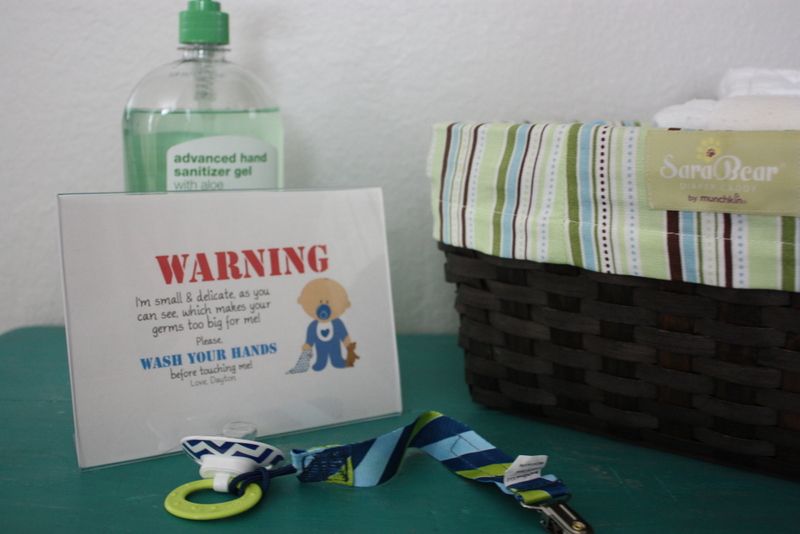 two. Football.
We are right in the heart of Football season and while we've only made it to one game this season, we are enjoying staying in and watching at home with our little Nole. Our little guy has fit right into this family of Seminoles (although he sleeps through most of the games.)
three. Pumpkin.
Of course, I love a good hot Pumpkin Spice Latte, but this past weekend I made the most amazing pumpkin chocolate chip cookies! They aren't much to look at, but not only were the delicious, they were super easy to make.
1 Can of Pumpkin
1 Box Spice Cake (you'll use the powder only)
1 Cup of Chocolate Chips
Heat oven to 350. Mix the pumpkin and the cake powder until moist and lump free. Fold in the chocolate chips. Line baking sheet with parchment paper and spoon rounded tablespoons of the dough on to sheet. Bake for 13-15 minutes. Let cool on wire rack.
four. Sleep.
We could quite possibly have the loudest sleeping baby that ever existed. He whines, squeaks, wails and grunts in his sleep all.night.long. Since we were getting absolutely no sleep, we made the decision (now that he is 2 months old) to start having him sleep in his crib. He's been in his crib two nights now and has done great! I get up twice a night to feed him and usually once a night to rock him back to sleep (if he wakes up) but overall we are all feeling so much better. Of course my eyes and ears are still glued to the monitor.
five. Halloween.
While I doubt we will actually dress Dayton up this year, or even take him out on Halloween for that matter, I can't get over all the cute costumes for newborns! I absolutely love Halloween and I am so looking forward to the years when Dayton loves it too! I mean, really?