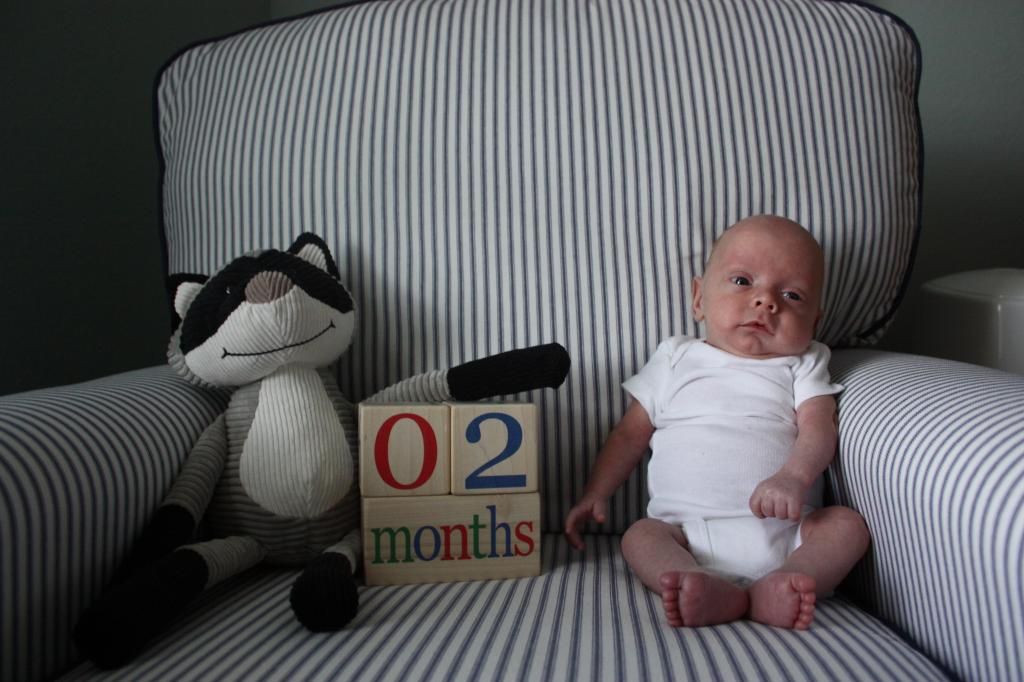 How is it that this little stud is already 2 months old? He's only been home for a little over 2 weeks, so the fact that he is 2 months simply blows my mind!
Here's what's been going on this month:
Chronological Age: 2 Months
Corrected Age: -17 days
Weight: As of today, Dayton is 6lbs 12oz!
Height/Length: At our last doctor's appointment he was 18.5 inches.
Size: He can still wear a few of the larger/longer preemie things but is pretty much only in newborn clothes, as long as they are on the smaller side. In newborn clothes, I usually have to roll his sleeves up so his hands are covered.
Eating: Since he came home from the NICU he has been exclusively bottle fed (we use Dr. Brown's bottles) with Similac Neosure 22 calorie liquid formula. He eats every 3 hours like clock work but if he had it his way, he would eat constantly all.day.long. Poor guy acts like he is always starving! I've asked the doctor about increasing the amount he eats or possibly feeding him on demand but he wants us to stick to our current schedule for a little while longer. Right now he gets 60cc (2 ounces) at each feeding which is actually 15cc more than he has to get. He is a super good eater and usually finishes his bottle in less than 15 minutes. He also occasionally gets prune juice (weird, huh?) with his bottle to help keep things moving in his system.
Sleeping: He is still sleeping most of the day. He is an extremely loud sleeper so we just moved him from the craddle/rock-n-play/mama-roo to his crib and he is doing great! He wakes up 30 minutes before it's time to eat and is pretty fussy until we can get his bottle ready. He naps best in the car.
Likes: His paci, bath time, when Daddy plays the guitar for him and tummy time.
Dislikes: Getting dressed and undressed. He absolutely hates having anything go over his head.
Milestones: He is starting to be much more alert and engaging during the times when he is awake. He will track movement and lights and responds well to familiar voices. He can roll from side to side, just not completely over, yet. He is learning to hold his paci in his mouth and sometimes he will hold it in his hand.
Other things that happened this month: In addition to finally leaving the NICU, he has had a busy couple weeks since coming home. He has been able to meet lots of family and friends (including his Great-Grand Pappy), had his newborn photos taken, has been to his doctor four times and the eye doctor once and survived his first dinner out!