After a very long 68 days on bed rest (45 days at home and 23 in the hospital), we welcomed the most perfect little boy, 12 weeks early, on August 13th at 6:02am.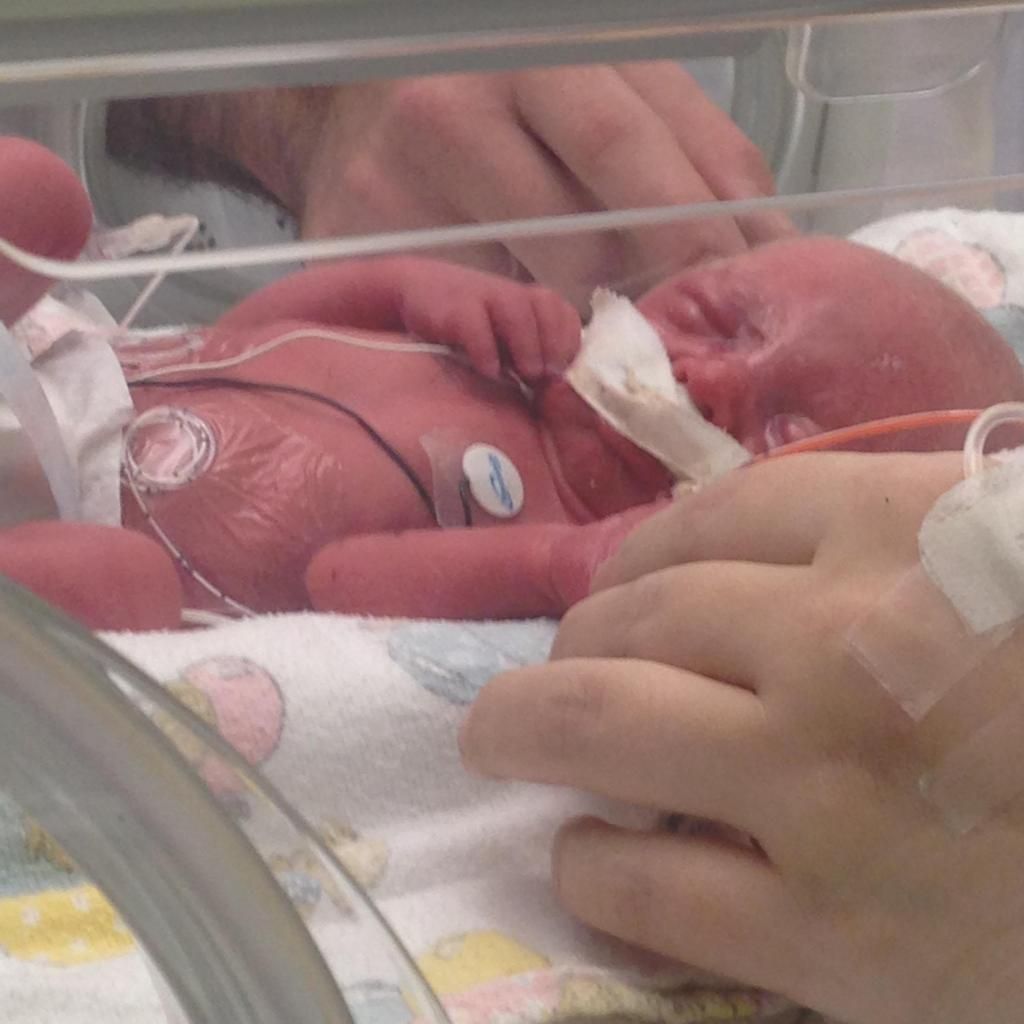 Dayton Wells Bench
2lbs 14oz
15.35inches
On the morning of August 13th, I woke up at 3:46am (I remember checking the time the minute my eyes opened) with inexplicable back pain. I got out of bed and tried to stretch, thinking maybe I had slept in a weird position, but very quickly realized I was probably in labor. Things had been really calm in the days leading up to Dayton's birthday so I was caught a bit of guard by this recent turn of events, but I remember being calm and extremely excited despite being terrified. I had already been told I would have a c-section due to the baby being breech, so I wasn't really worried about the actual procedure as much as I was about Dayton's health and how he would do immediately following delivery.
I started recording what I was sure were contractions, on my phone, and as soon as I realized they were coming every 6-7 minutes apart and lasting about 60-90 seconds, I woke up Jason, who had tirelessly slept on a hospital cot for 23 days, and let him know that I was going to call the nurse in. The nurse came in and immediately hooked me up to the monitors to check the baby's heart rate and to see if I was in fact having contractions. Like usual, Dayton was doing great and his heart rate was strong and steady, but no contractions were picking up on the monitor. The nurse sat down next to me and waited for me to tell her when the pain was back. As soon as I alerted her, she placed her hand on my stomach and could feel that I was contracting. She left the room again and returned to start an IV and told me that they were going to attempt to stop or slow the contractions. As soon as she got the IV started, Dr. McAlipine came in and calmly explained that he essentially had a change of heart and that he strongly felt that it was time to have the baby. I asked Jason to call both of our moms, while I called my dad. It was 5:16am.
The next few minutes were filled with a flurry of nurses in and out of my room, more IV medications, signing consent forms and lots of questions. Just before 5:30am we were on our way to the operating room. I kissed Jason goodbye and told him I would see him shortly after he had a chance to suit up and wait for a nurse to come get him. They wheeled me into the operating room, I was introduced to the people that were going to bring my little love into the world, and surgery prep began. It seemed like hours before I saw Jason's face again but just before 5:50am he was back by my side and we waited to meet our son.


We were initially told that we most likely wouldn't hear Dayton cry due to his small size and immature lungs, so I was over the moon when at 6:02am, we heard the smallest, sweetest cry from our sweet little baby. Dr. McAlpine handed Dayton off to the neonatal team and they began working to get him stable. They intubated him and administered some medication before asking Jason to come cut the umbilical cord. I remember being so happy but so also anxious to see him.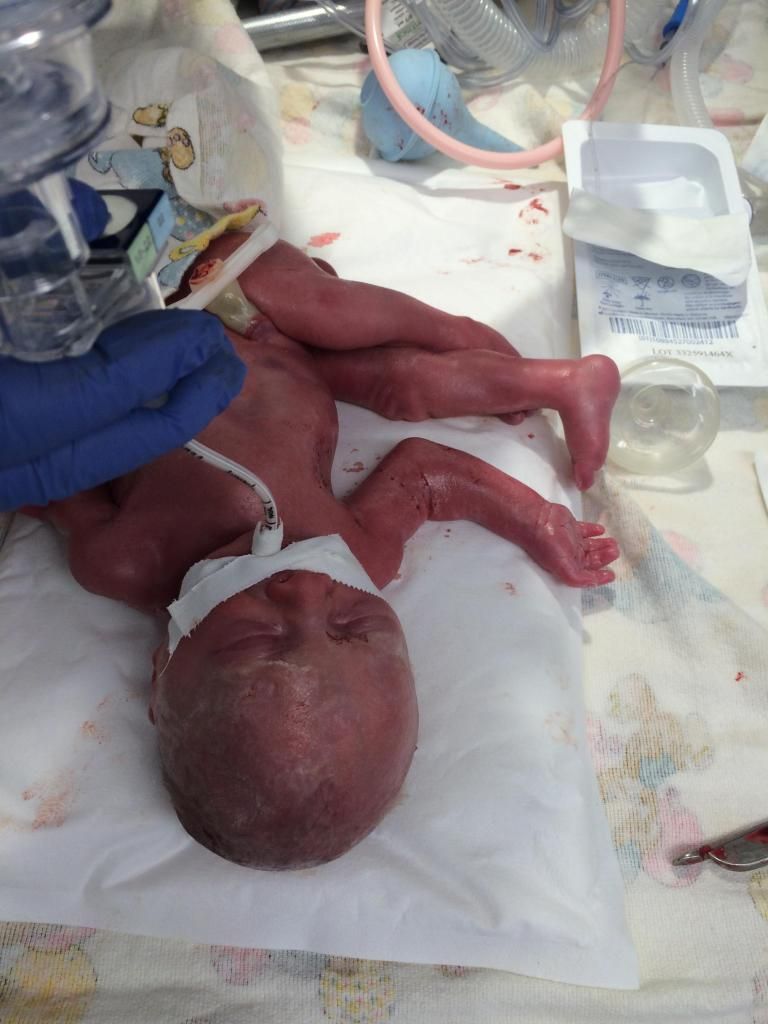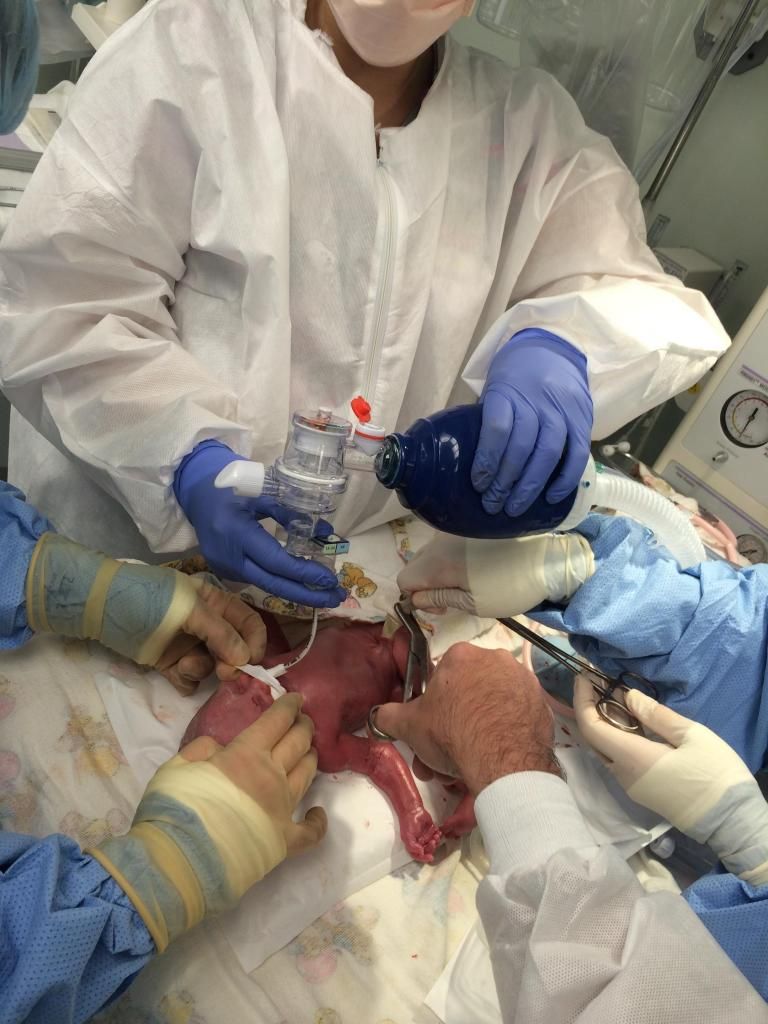 Once they had him stable, they placed him in a isolette and wheeled him as close to me as they could, so that I could see my precious baby for the first time. I have to admit that is seemed a little unnatural to be so far from him, but I knew it was what Dayton needed and that he was in good hands. I wanted so bad to touch him. We were able to snap one picture before Dayton was taken from the operating room directly to the neonatal intensive care unit
The next 45 minutes or so were quite a blur while they completed my surgery and removed my cerclage. I remember talking with Dr. McAlpine about our favorite types of wine, which looking back now, was such an unusual conversation to have on the operating table. That said, it was a much needed, light-hearted distraction, knowing that my son could possibly be fighting for his life. We honestly had no clue of his condition. All we could do was wait.
Once I was in the recovery room, I had a chance to see my mom & sister. We celebrated Dayton's arrival, talked about the whole experience and eagerly waited the go ahead to meet Dayton. I have no idea how much time past before the nurse told me the NICU was ready for us to come in. With Jason by my side they wheeled me into the NICU and right up to Dayton's isolette.
There he was, our beautiful baby boy. All 2lbs 14oz of him. He was absolutely perfect.