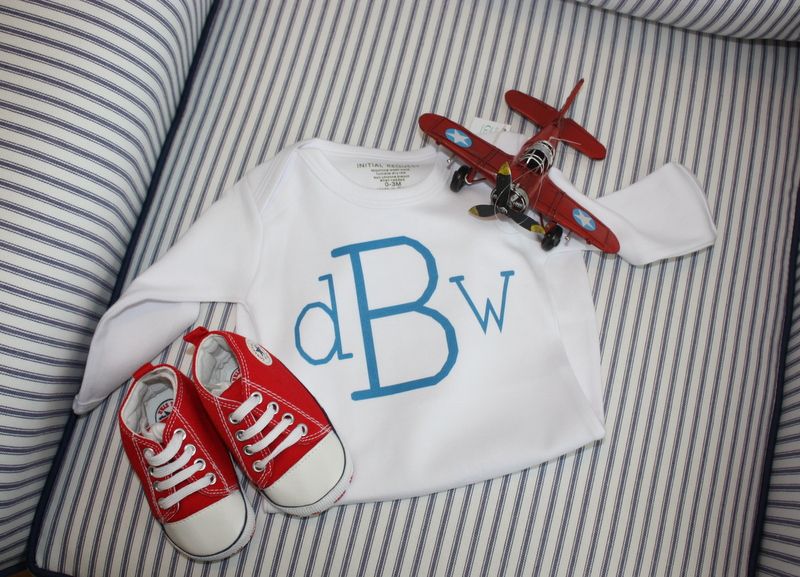 Today, I wanted to share five of my recent fun finds from around the web!
1.
All the Wire
I received the best and sweetest gift last week from All the Wire. I've been searching for the perfect necklace to get with Dayton' name and just hadn't found the right one, so when I was gifted with
this one
, I was so excited. It's perfect and I love it! I am also loving
these
and
these
.
2.
SewSoDarling
I ordered a monogrammed newborn hat,
like this one
, from SewSoDarling after I came across the shop on
etsy
. I can't wait to get it in the mail.
3.
Initial Request
I first found Initial Request when they were featured on
Zulily
a week or so ago. I ordered a monogramed gown and when it arrived (which, by the way, was super quick), I feel in love with the quality and softness of the gown. Unfortunately, the color of the monogram was slightly off from what I had ordered. I sent an email to the company and within 15 minutes they replied with an apology and an offer to send a corrected gown! It arrived a few days later and was perfect! I am so thankful for their willingness to make the order right! Gotta love good customer service!
4.
Pottery Barn
&
Skip Hop
In search for a diaper bag (I've had the hardest time make a decision about this) I order
this bag
from Pottery Barn. I planned to have it monogramed locally, as PB only offered one style and I wasn't a big fan. Anyway, when it arrived, I realized right away it was too small. Thankfully my sister was looking to downsize her current diaper bag so this one didn't go to waste! I finally decided on
this bag
and recently added it to our registry.
5.
Amazon
(and why I loathe Target's website!)
Since I can't get out and about these days, it's been super convenient to have the ability to order things online. My usual go-to place (for almost anything!) is Target, but unfortunately, their website is horrible! For starters I feel like 99% of what I need is "not available online". Why is it even listed on the website, if you can't order it online?! So annoying. Secondly, when I try to order anything or update our baby registry, I get constant error messages. I finally gave up and decided to try amazon! Thankfully, I haven't experienced any issues yet! My most recent Amazon purchase was the book
Mom's on Call
, after it came highly recommended.