Since finding out that we are expecting, baby planning has taken up most of my free time. As a self proclaimed planner and someone that needs to have everything organized and in one spot, this whole nursery, hospital, baby thing was giving me anxiety! All the ideas, tips, recommendations and coupled with all the fun things I wanted to make sure I remember when the time is right, I had to put my spinning mind at ease. Enter the Baby Binder!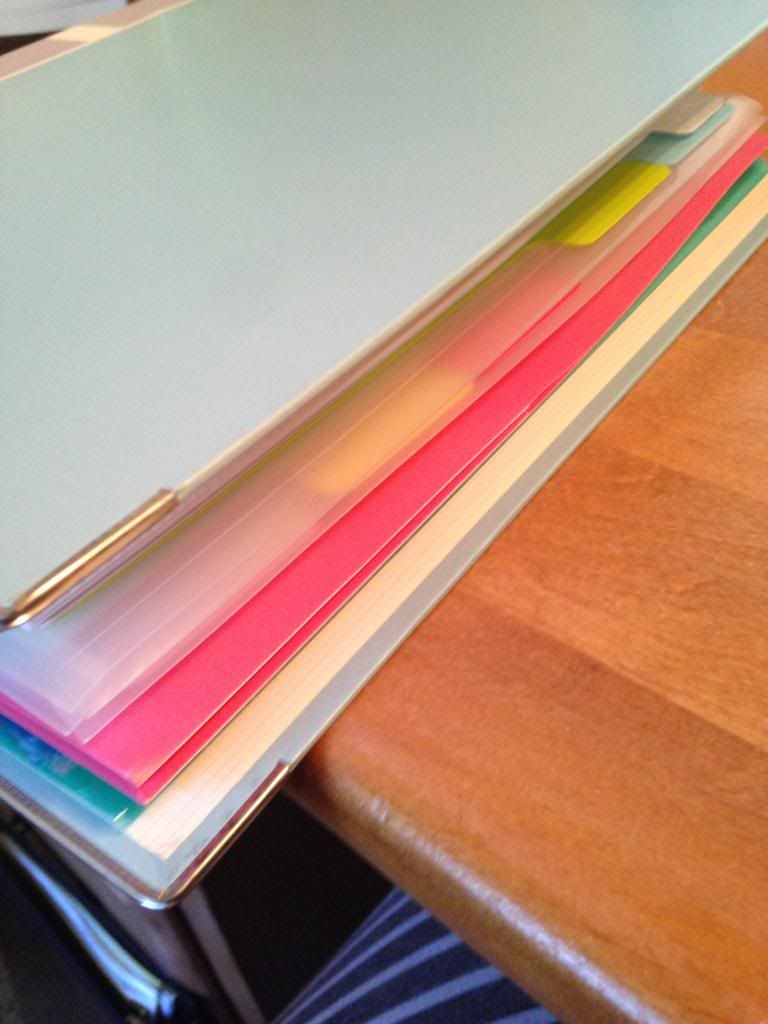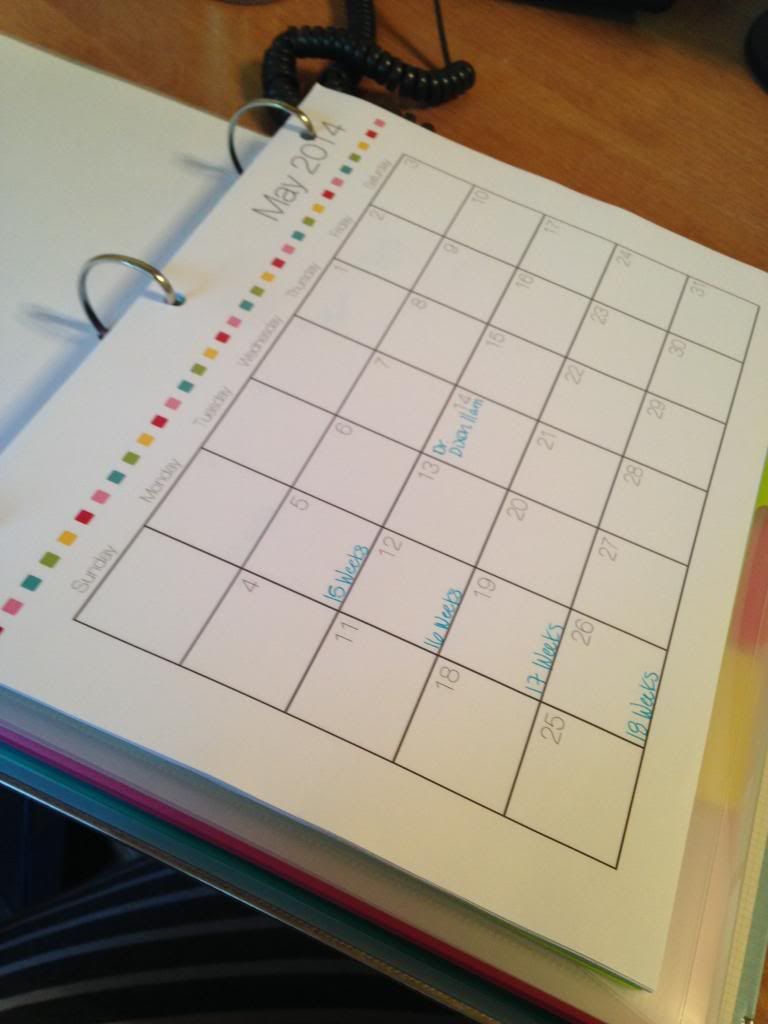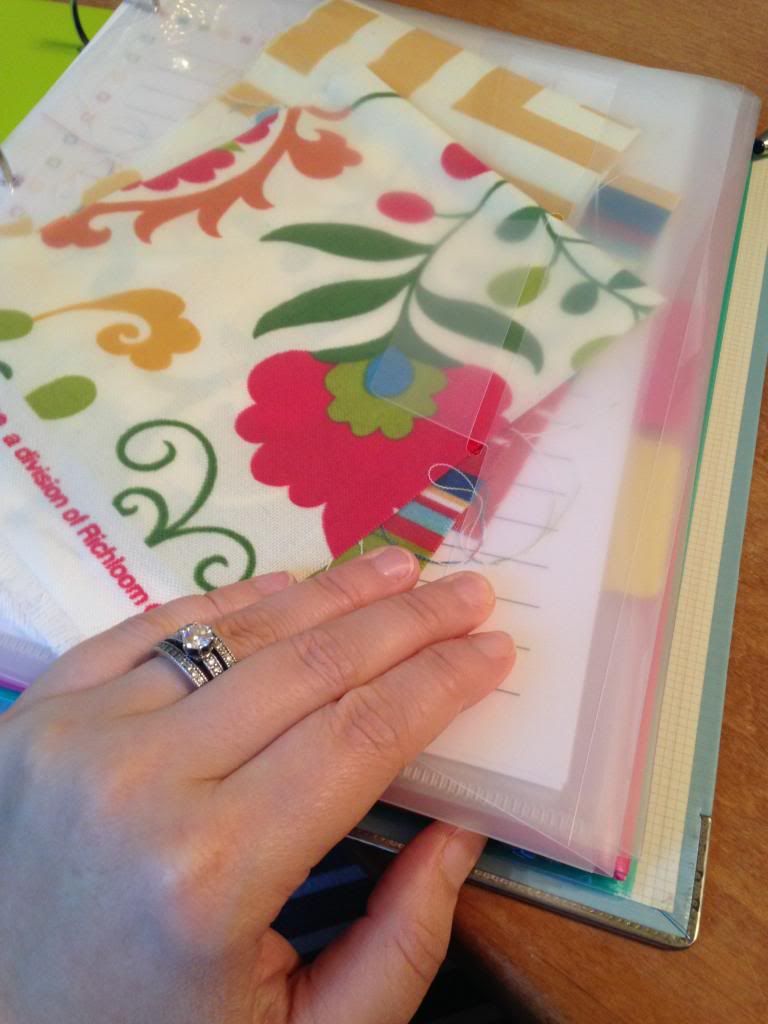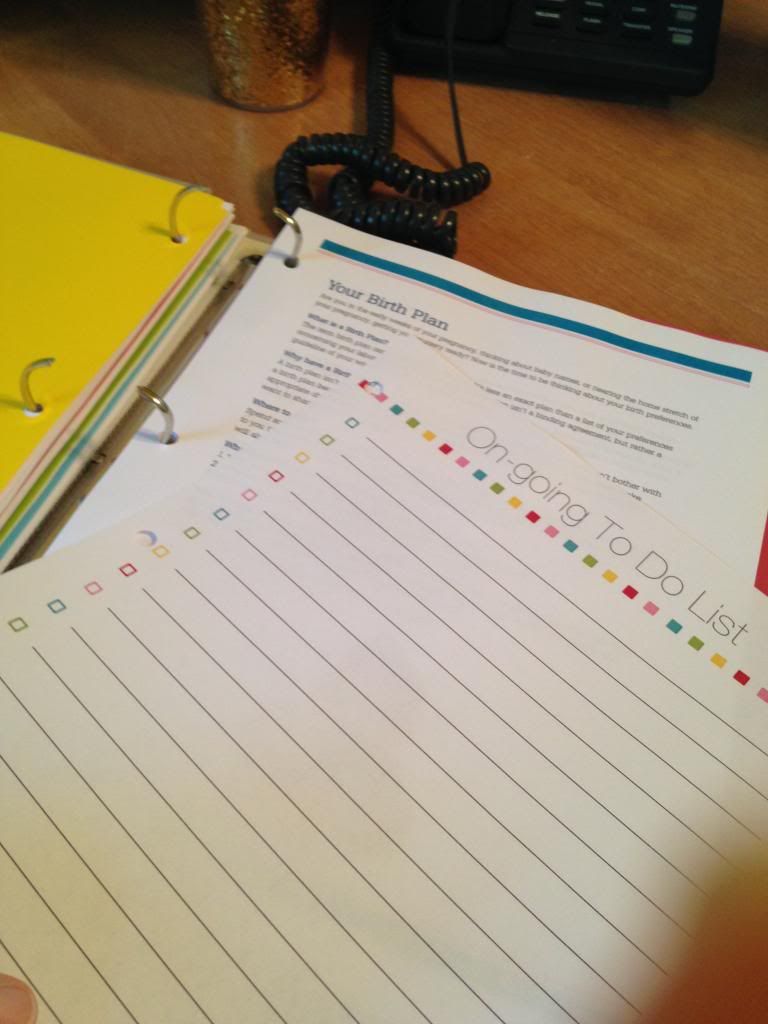 I decided that all I need was some fun dividers, clear pockets and colorful pens and I could get my head wrapped this whole Baby thing! It's definitely a work in progress and will surely grow over the next five months but I thought I would share with you a general outline of how I organized my Baby Binder. One great thing is I will probably just have to make some minor changes or additions and can use this well after the baby arrives!

Front Section:
Business Card Holder. This is perfect for collecting business cards for quick referencing later on.
2014 Calendar:
Remembering important dates like appointments and milestones (hello full term!), along with having a quick place to jot down things like "heard heat beat for the first time" and "first felt baby move" make having a calendar a must! (I used this printable)
Contact Information Sheet:
If you are like me, then you probably store all your names, numbers and addresses in your phone. Well, what if someone other than you needs this information, your phone dies or in the event of an emergency? It's always best to have hard copy of the most important contacts readily accessible. (I used this printable)
Lab Slips: I tend to misplace mine all the time so having one spot to keep them is helpful.
Copies of things like Insurance Cards & Driver Licenses
Important Medical Records: Things like your blood type, allergies or other medical information can be SUPER useful and vital in the event of an emergency.
Medical Bills, Receipts and Estimates: It's really important to know how much things cost and to have an accurate record of what you have paid. So many times, records are delayed getting updated in physicians computer systems or somehow get lost, so it's ALWAYS a smart idea to hold onto proof of what you paid. Also, make sure to go through your medical bills, line by line. Errors happen and can be costly if you aren't checking your bills. It's also a great idea to print your insurance benefits regarding pregnancy, labor and delivery, in case something comes into question.
To Do List. These are great for jotting down quick reminders of things that pop into your head. "Pregnancy Brain" is a real thing, so making list is always a good idea so you don't forget anything you once thought about. (I used this printable)
Fabric Swatches & Paint Samples. Clear pockets are great for these!
Nursery Furniture with Pictures and Prices. This is a big help with budgeting. You can easily compare items and make the best choice for you, your baby & your bank account!
Coupons, Deals or Updates from places where nursery items will be purchased.
Receipts and Warranty Information. In case of faulty items, broken or missing pieces and especially in case of manufacturers' recalls, for things like furniture and other big ticket items it's a great idea to keep all the paperwork in case you need it in the future.
Printed pictures of other misc ideas of things you want included in the nursery.
Wish Lists from places that I have chosen NOT to register with. These are always great to share with friends or family who don't want to purchase off your registry and who might ask for other ideas.
Misc items that you want and plan to buy on your own.
Coupons, Deals or Updates from places where you registered. Lots of places give discounts on Registry Completion (Babies-R-Us gives 10% off – they email it to you when you are approaching your due date!)
Birth Plan. Our hospital sent is a copy of a simple and easy one to fill out.
Child Birth Class Information.
Packing for the Hospital Checklist: (I printed this one, along with one that our hospital sent us)
Hospital Visitor Information. If you have family or friends who might plan on traveling to meet the baby, it's a good idea to know, so you can tell them, exactly what to expect in regards to visiting hours, parking information and other hospital related information. No one wants to drive hours in the car, only to be turned away at the door. Most hospitals have "quiet time" when visitors really should not plan to come by, most charge for parking and almost all require a form of approved ID in order to visit mom or baby.
General information sent to us from the hospital or doctor that will be important during our hospital stay.
General information sent to us from the hospital or doctor that will be important when bringing baby home
Babysitter Checklist.
I printed a few blank ones to have on hand for when the time comes. (I used this printable)
Extra To Do Lists
Gift Tracker.
I created a simple sheet in excel that will help with keeping track of gifts so I can make sure I don't forget a single thank you note.
One Easy 3 Ring Binder Pull Out File Folder. This is great for those times when you just need selected information out of the binder to take to appointments or into stores.
3 Hole Zipper Pocket . I use this to hold pens and loose things like ultrasound pictures and appointment reminder cards that otherwise would not have a place.
Small Coupon Holder for Extra Coupons and Receipts.
I keep this inside the zipper pocket so it does not fall out. This is a great grab and go item for those quick trips to the store.
A Subject Notebook. It's always great to have paper on hand. Keeping a notebook with the binder will help ensure I will always have a place to take notes.